Home » Brands » Smooth Fitness »
Smooth® CE 7.4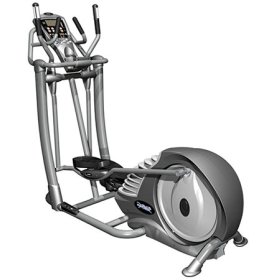 The Smooth® CE 7.4 elliptical cross trainer is a built for those who take health and fitness seriously. It offers all these impressive features and more. Plus, with its extra-heavy, welded steel double frame the CE 7.4 supports a remarkable 350 pounds - as much or more than most commercial units.
The most beneficial attribute of an elliptical cross trainer is its ability to provide an exceptional cardiovascular and weight-bearing workout without jeopardizing your joints or back. Above all, ellipticals should have an effortless glide and an intuitive feel that works in concert with your body. Smooth® elliptical cross trainers are praised by our customers and elliptical reviewers alike for their fluid motion and ultra-quiet performance plus other significant features including:
Ergonomic, Pivoting Foot Pedal - Emulating the orthopedic movement of your ankle, the pivoting foot pedal supports your heel while allowing your ankle to assume its most functional position throughout the entire cycle. Proper alignment prevents your ankle, knee and hip from suffering impact.
Long 21 " Stride - The CE 7.4 accommodates even the tallest users comfortably.
Heavy Duty Flywheel - The elimination of rollers also eliminates the aggravating 'bump" sometimes felt with other elliptical cross trainers. With a heavy duty flywheel, the CE 7.4 has a noticeably smoother ride than other ellipticals.
Upper and Lower Body Workout -Smooth Fitness™ introduced the first total body elliptical cross trainer in 1997. The CE 7.4 offers a unique 3:1 ratio of lower body resistance to upper body resistance. This allows your arms and legs to receive an equal workout without one tiring before the other.
Electromagnetic Braking System - The superior technology of electromagnetic brakes on elliptical machines allows for smooth transitions and stops even during strenuous workouts.
Wireless Heart Rate Control - Normally only available on other machines for an additional cost, your CE 7.4 comes with a free wireless heart rate monitor. Set your preferred heart rate, strap on the chest monitor and the resistance of your routines will automatically be adjusted as your heart rate changes.
Heavy Gauge Oval Steel Frame - Oval tubing is engineered to be stronger and adds a stylish flair to the CE 7.4.
LED Display - With a four-window, dot matrix LED display, you can easily read course profiles, RPM, speed, watts, time, distance, pulse, heart rate, calories, resistance level, metabolic equivalents and target heart rate.
Shipping Is Included
Similar Products:
Smooth 9.25 HR Treadmill


62" running surface, dot matrix, commercial quality components; need we say more?

Smooth 5.25


The new Smooth 5.25 takes the best and makes it even better with exciting new upgrades you won't expect to find at such a great discount. Treadmill

Smooth 9.17HRO Folding Treadmill


Loaded with useful extras and superior cushioning, this truly is our best value.

CE 2.1 Elliptical Trainer


From its state-of-the-art design to the whisper quiet magnetic resistance system, the Smooth® CE 2.1 is full of pleasant surprises.