Home » Brands » Smooth Fitness »
Smooth® CE 3.2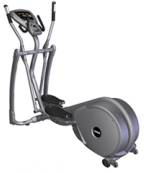 The CE 3.2 elliptical machine delivers affordability without sacrificing quality. Popular features are included that make Smooth Fitness™ the obvious choice for elliptical trainers. With a solid foundation of excellence, the CE 3.2 brings proven reliability and innovative elliptical technology that combine for a smooth, intuitive ride every time. Compare these features to other elliptical machines and you'll quickly see the difference.
Ergonomic, Pivoting Foot Pedal - Mimicking the natural motion of your ankle, the pivoting foot pedal holds proper alignment keeping your ankle, knee and hip from suffering impact.
Long 18" Stride
Heavy Duty Flywheel - Instead of rollers, the CE 3.2 uses a heavy duty flywheel that dramatically increases the smoothness of the ride.
Upper and Lower Body Workout - A pioneer in total body elliptical machines, Smooth® was the first to market with an elliptical offering movable handles. Including the upper body in an elliptical workout improves cardiovascular function and muscle tone as well as aids in burning more calories.
Similar Products:
Smooth CE PLUS


The longest stride available in an elliptical of this size

Smooth 7.1HR Pro Folding Treadmill


For serious users, added cushioning and stability make this the smart choice

CE 2.1 Elliptical Trainer


From its state-of-the-art design to the whisper quiet magnetic resistance system, the Smooth® CE 2.1 is full of pleasant surprises.

Smooth 9.25X Treadmill


4-Ply belt, 3.5 CHP motor; this unit will replace your gym membership

Smooth 6.25


"Swing Arm" cushioning, ultra quiet, perfect for runners in your family.