Home » Brands » Smooth Fitness »
Smooth 9.25X Treadmill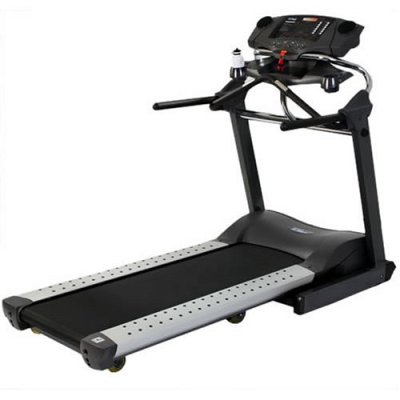 The Smooth® 9.25X is simply unmatched for features and quality at this price. It is the star of the Smooth Fitness™ line.
The 9.25X offers exclusive features only available from Smooth Fitness™. Developed for serious runners who love the steadiness of commercial treadmills, you'll find the silent yet powerful motor, advanced circuitry and innovative features are only surpassed by the exceptional quality.
Exclusive Impression Shock Absorption™ Technology - Proven in university trials, the Impression Shock Absorption™ deck of the Smooth® 9.25X eliminates movement harmful to your joints and back.
4-Ply Whisper Weave Orthopedic Belt - A 20-degree, seamless, diagonally fused belt gives increased cushion with decreased friction, eliminating the swish and thump noises often found on a lesser quality home treadmill. Non-slip tread pattern is typical of commercial treadmills, has a quality look and feel, and does not trap dirt.
Powerful 3.5 HP Continuous Motor - Built for long life and complete silence. Engineered with an advanced Pulse Width Modulation (PWM) circuit board usually found on commercial treadmills, the 9.25X operates noise-free. Optical speed sensors working in conjunction with the PWM ensure smooth speed changes, plus dual motor fans give added life to your treadmill.
Heart Rate Control with Wireless Chest Strap - Through programmed settings you control, the wireless heart rate monitor can automatically adjust the intensity of your workouts. An ergonomically positioned handgrip pulse monitor is also included.
Heavyweight Unit - At 304 pounds, the Smooth® 9.25X is rock solid and wobble-free, and supports runners up to 400 pounds.
Intuitive LED Console - Logically organized with oversized buttons, this LED console is easy to use, even in a full sprint. View two windows simultaneously and see 1/4-mile running track, speed, distance, time, calories burned, heart rate and more.
Premium Sound System - Get greater pleasure from your workouts when you listen to music or watch your favorite show as you run. An impressive - yet rare - feature for a home treadmill.
Lifetime Warranty - With quality usually found only in commercial treadmills, the 9.25X is backed by an impressive lifetime warranty on parts, frame and motor.
Shipping Is Included.
Similar Products:
Smooth 6.25


"Swing Arm" cushioning, ultra quiet, perfect for runners in your family.

Smooth 9.17HRO Folding Treadmill


Loaded with useful extras and superior cushioning, this truly is our best value.

Smooth 7.1HR Pro Folding Treadmill


For serious users, added cushioning and stability make this the smart choice

Smooth 5.25


The new Smooth 5.25 takes the best and makes it even better with exciting new upgrades you won't expect to find at such a great discount. Treadmill