Home » Brands » Smooth Fitness »
Smooth 5.25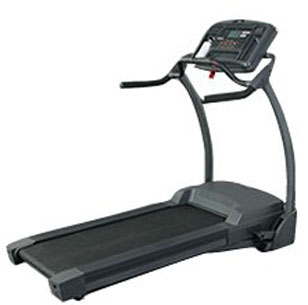 The Smooth 5.25 folding treadmill is the much-anticipated upgrade to the wildly popular 5.15 model. Rated as a best treadmill by Treadmill Doctor for three consecutive years, we had a solid foundation with proven performance to build on. The new Smooth 5.25 takes the best and makes it even better with exciting new upgrades you won't expect to find at such a great discount. Treadmill quality is also improved without compromising affordability.
Impressive Features
The Smooth 5.25 folding treadmill follows in the footsteps of other Smooth models designed to deliver quality at a discount. Treadmill features available on the 5.25 are rarely found on other models with a "best treadmill" designation. Improvements include:
Dual-Stage, Soft Drop Folding - Gas shock-assist "Soft Drop" mechanism makes operating this folding treadmill easy. Fold and unfold your treadmill by gently tilting the deck into one of 15 positions. Then softly drop it back when it is time for use.
20" Wide Running Belt - No skimpy 16", 18" or 19" running belts here! The Smooth 5.25 folding treadmill includes the same size running belt as our most expensive model.
Patented Swing Arm Suspension System - Walk or run with less impact on your feet and joints. The Smooth 5.25 lives up to its "best treadmill" reputation with upgraded shock-absorbing Swing Arm technology. Enjoy the same smooth, shake-free performance as health club treadmills.
Increased Weight & Stability - Because of their light weight, discount treadmills often rock and sway during brisk walks or runs. With the heavy weight of the Smooth 5.25, safety and stability are assured.
Repositioned Hand Grip Pulse Monitor - Conveniently positioned at the front of the console, your hand grip pulse monitor is more comfortable to use.
Improved LCD Console - Intuitive, interactive LCD console lets you monitor your speed, distance, calories, time and pulse simultaneously.
Lifetime Warranty on Frame and Motor - A "best treadmill" deserves a warranty to match! Your Smooth 5.25 folding treadmill is backed with a lifetime warranty on the frame and motor. What's more, you also get a 3-year warranty on all parts and 1 year of in-home service at no additional charge.
Shipping Is Included
Similar Products:
Smooth CE PLUS


The longest stride available in an elliptical of this size

Smooth® CE 3.2


Deluxe electronics, pivoting pedals, free wireless HRC; perfect choice for your family.

Smooth 9.25 HR Treadmill


62" running surface, dot matrix, commercial quality components; need we say more?

Smooth 6.25


"Swing Arm" cushioning, ultra quiet, perfect for runners in your family.